Dictionary of Optometry and Visual Science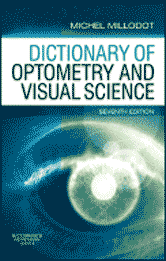 Includes succinct, understandable definitions, extensive tables and illustrations, and practical clinical advice as well as many new entries on pathology, pharmacology, investigative techniques, refractive surgery, contact lenses and visual perception.

Elsevier Health Sciences
Copyright © 2000 Reed Educational and Professional Publishing Ltd.; © 2009 Elsevier Limited. All rights reserved.
Entries: 4,298
Images: 106