International Encyclopedia of Hospitality Management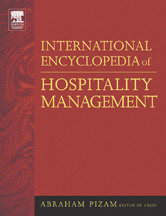 The International Encyclopedia of Hospitality Management covers all of the relevant issues in the field of hospitality management from both a sectoral level (including: Lodging, Restaurants, Clubs, Time-shares, and Conventions), as well as a functional one (covering Accounting & finance, Marketing, Human resources, Information technology and Facilities management). Its unique user-friendly structure enables readers to find exactly the information they require at a glance; whether they require broad detail which takes a more cross-sectional view across each subject field, or more focused information which looks closely at specific topics and issues within the hospitality industry today.

Routledge
Copyright © 2010 Routledge, Inc.
Entries: 733
Images: 40
People: 233