American Environmental Leaders: From Colonial Times to the Present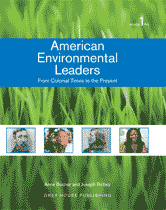 A collection of biographies of the men and women who have made a significant contribution to environmental issues over the last 200 years. Biographies range from scientists to advocates, businessmen to musicians, politicians to actors, along with others who have forever altered how we think about the environment.

Grey House Publishing
Copyright © 2008 by Grey House Publishing, Inc.
Entries: 424
Images: 147
People: 2,056