Hargrave's Communications Dictionary, Wiley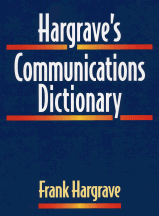 A treasure of simplified communications terms, definitions, acronyms, charts, equations, and a wealth of related information amassed over the author's extensive engineering career. From ATM to Zone Paging, this volume includes over 10,000 definitions of key phrases that readers in industry, government, and academia need to understand.

Wiley
Copyright Copyright © 2001 by the Institute of Electrical and Electronics Engineers, Inc.
Entries: 10,510
Images: 476