The American Heritage Guide to Contemporary Usage and Style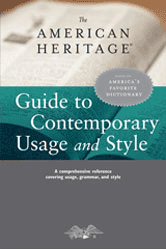 This authoritative survey of English usage, grammar, and style offers guidance on almost any writing problem imaginable. Arranged in a single, easy-to-use A-Z list, the guide's entries include examples and quotations that show not only correct and incorrect usage but also the relative effectiveness of different expressions in context.

Houghton Mifflin
Copyright Copyright © 2005 by Houghton Mifflin Company. Published by Houghton Mifflin Company. All rights reserved.