American Heritage Roget's Thesaurus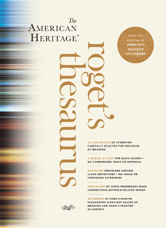 The American Heritage® Roget's Thesaurus provides a wide range of synonyms organized in alphabetical order. Clear definitions that orient the user to the relevant meaning of related words set this thesaurus apart from the competition.

Houghton Mifflin
Copyright Copyright © 2013 by Houghton Mifflin Company. All rights reserved.