Thames & Hudson Dictionary of the Italian Renaissance, The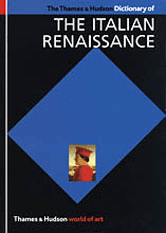 Contains entries covering music (eg Palestrina), architecture (eg palazzo), war, diplomacy (Machiavelli), religion, literature and social history, as well as the visual arts (eg Leonardo da Vinci). Includes entries written by major scholars such as Dennis Arnold, Brian Pullan and Marie Boas Hall.

Thames & Hudson
Copyright © 1981 Thames and Hudson Ltd. London. Reprinted 2003.
Entries: 771
People: 485
Locations: 26