Dictionary of Communications Technology: Terms, Definitions and Abbreviations, Wiley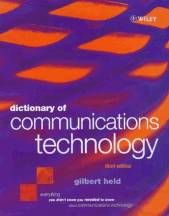 An invaluable one-stop reference for IS professionals, consultants and engineers. Wider ranging than a conventional dictionary, it enables you to check exact specifications, definitions, characteristics, options, relay diagrams, paths, alignments, sources, codes, events, tables, sequences, tradenames, methods, and numerous other vital facts that can spell disaster if misinterpreted or incorrectly specified.

Wiley
Copyright Wiley Dictionary of Communications Technology © 1998 by John Wiley & Sons Ltd.
Entries: 10,823
Images: 199