Learn More
Literati Entry

Featured video

Learn how to define which type of information you need to differentiate between primary and secondary sources, and locate different types of information in your library.
Lawrence, Jacob from Encyclopedia of the Harlem Renaissance

Jacob Lawrence is arguably one of the most important American artists of the twentieth century. Although he was not active during the Harlem Renaissance, his work directly reflects the importance of Harlem both as a place and as an artistic community.
Lawrence was born in 1917 in Atlantic City, New Jersey, the eldest child of Jacob and Rosa Lee Lawrence. His father worked as a railroad cook but in 1919 moved the family to Easton, Pennsylvania, in order to seek work as a coal miner. Lawrence's parents separated when he was seven, and in 1924 his mother moved the children to Philadelphia, where, because of the types of jobs she held—primarily live-in domestic work—they spent time in and out of foster homes. They moved to Harlem when Lawrence was twelve years old. In Harlem, he spent many hours listening to relatives and neighbors describe their lives in the South and their journey northward, themes that would later appear in his art.
Shortly after his arrival in Harlem—because his mother wanted to keep him out of trouble—Lawrence enrolled at the Utopia Children's Center, a settlement house that provided an after-school program in arts and crafts. The center was operated by the painter Charles Alston, who recognized Lawrence's talent and encouraged him. After graduating from grade school, Lawrence attended the High School of Commerce and continued to paint on his own. As the Great Depression deepened, his mother lost her job, the family had to go on relief, and Lawrence dropped out of high school before his junior year to help by working at odd jobs. In 1936 he joined the Civilian Conservation Corps (CCC) and was sent to upstate New York, where he planted trees and built dams. When he returned to Harlem, he became actively involved with another New Deal program, the Harlem Community Art Center, directed by the sculptor Augusta Savage. There he began painting his earliest scenes of Harlem. As a teenager, Lawrence hung out at the Harlem branch of the YMCA, where he became friendly with "Professor" Seifert, a self-taught expert on African and African American culture. Lawrence was profoundly influenced by Seifert, who, he explained, "wanted to get black artists interested in art . . . to select as our content black history." Seifert encouraged Lawrence to visit the public library as well as local museums to learn more about the African and African American past. Seifert also gave Lawrence access to his personal collection.
As the Depression continued, hard times persisted for Lawrence and his family. Yet he maintained that, in Harlem, the Depression "was actually a wonderful period. . . . There was a real vitality in the community." In part this vitality was due to the Works Progress Administration (WPA), which established jobs for blacks in a variety of fields. Most significant for Lawrence were the WPA's art projects, in particular the Federal Arts Project (FPA). With the help of Augusta Savage, Lawrence was assigned to the FPA's easel project. The FPA paid artists, black and white, a living wage—$23.60 a week—and, according to Lawrence, that was a lot of money at the time.
While working with the FPA, Lawrence became interested in the life of the black revolutionary Toussaint-Louverture, founder of the republic of Haiti. Lawrence felt that no single painting could capture Toussaint's numerous achievements and that he would therefore need to paint the entire story. Series of paintings would become one of Lawrence's signature traits. A year after completing the Toussaint-Louverture series, Lawrence began work on a forty-panel series depicting the life of the abolitionist Frederick Douglass; in 1939 he did a thirty-painting series, The Life of Harriet Tubman; and in 1940–1941 he painted the famous Migration Series, with a grant (his first of three) from the Rosenwald Foundation. All these series reflected his strong interest in African American history.
With regard to the Migration Series, Lawrence said:
By the time I was in Harlem, I decided to paint this series—I wasn't thinking of sales or of a gallery. I liked storytelling. I went to the Schomburg Library and selected events from the North and the South. I think that the series alternates from South to North. I just got into it. I didn't separate it—I wasn't looking at it from the inside out or the outside in. This was such a part of my life. . . . I was doing research at the time. I guess it was both emotional and intellectual. . . . We are absolutely a people telling stories. It seems like we were born talking and telling people about it. The series came out of that—people talking about people coming up from the South. This tradition continues. . . . Another family arrives.
When Lawrence created a series, he would work on all the panels at once, one color at a time, going from dark to light. A striking characteristic of his work is his use of bright colors, a trait that he attributed to his experience of living in Harlem:
We lived in a deep depression. Not only my mother, but the poor people in general. In order to add something to their lives, they decorated their tenements and their homes in all of these colors. I've been asked, Is anybody in my family artistically inclined? I've always felt ashamed of my response and I always said no, not realizing that my artistic sensibility came from this ambience. I did have this influence, but I didn't realize it was taking place. It's only in retrospect that I realized that I was surrounded by art. You'd walk Seventh Avenue and look in the windows and you'd see all these colors in the depth of the depression. All these colors. You'd walk though Harlem and go to the Apollo theater, and the jokes that were being told! The pathos! People would laugh, but it was a comedy on a very profound, deep, philosophical level. But you can only see this, you can only realize this., in retrospect.
Essentially, then, Lawrence's sense of color was communal, coming directly from the streets of Harlem.
In general, Lawrence's pictures tell a story not only visually but also verbally. The Migration Series, for instance, has a caption for each image, such as the following text for the sixth panel: "The trains were packed continually with migrants." In this regard, it is worth noting that for Lawrence the railroad was an important symbol of the great migration:
I didn't realize that there were so many symbols of railroad stations, bus stations, people travelling! But that's what migration is. You think in terms of people on the move, people moving from one situation to another. Crossroads, bus stations, and train stations—moments of transition—it certainly was a moment of transition in the history of America and for the race. It's one of the big movements in our country. And I want to say this, too: I don't think the blacks in making a movement just contributed to their own development. It contributed to American development. Look at your structure of the cities—the passion, the energy, the vitality. Not always positive—some of it quite negative—but it's there and I think we have added to, and not taken from, our growth. When I say our, I'm using that in a larger context. And I think that we have made a contribution in making this move. Many people tried to keep us out. You had your riots. But we made a tremendous contribution to the American growth, to the American development of America.
The Migration Series met with immediate acclaim and with praise from critics, and it secured Lawrence's reputation. Shortly after it was completed, Alain Locke brought Lawrence to the attention of Edith Halbert, the head of the respected Downtown Gallery. She in turn exhibited the entire series and arranged for Fortune magazine to run a story on Lawrence and to reproduce twenty-six of the paintings. Half of the sixty panels in the series were sold to the Museum of Modern Art in New York and the other half to the Phillips Collection in Washington, D.C.
Lawrence followed the Migration Series with The Life of John Brown (twenty-two panels), Harlem (thirty-two panels), War (fourteen panels), The South (ten panels), Hospital (eleven panels), and History of the American People (thirty panels). Hospital was painted during and after his own nine-month stay at Hillside Psychiatric Hospital, where he had gone voluntarily for treatment, citing the stresses of fame. Lawrence also completed a number of individual paintings and drawings inspired by African American history and by his own life experiences.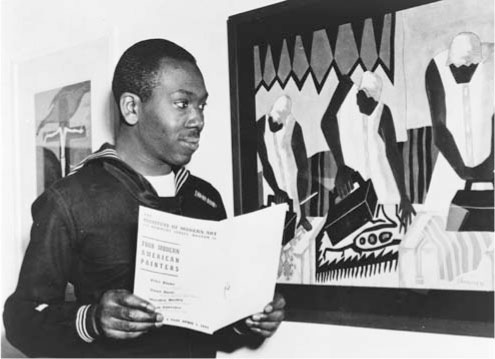 As his fame grew, Lawrence was in demand as a teacher. He taught at the Black Mountain School in North Carolina; the Pratt Institute and the New School for Social Research in New York; the Five Towns Music and Art Foundation in Cedarhurst, Long Island; and elsewhere. In 1970, he became a full professor at the University of Washington in Seattle, where he lived until his death in 2000.
Lawrence's work has been represented in numerous individual and group shows, and he received many awards, commendations, and honorary doctorates. His lifework may perhaps be summed up in his own assertion that "the Negro experience is the American experience."
Biography
Jacob Armstead Lawrence was born in Atlantic City, New Jersey, on 7 September 1917 and moved at the age of twelve to Harlem, where he attended public schools. He won a scholarship to the American Artists School (organized by the John Reed Club, a communist group) at 131 West Fourteenth Street in 1937. He worked for six months in the Civilian Conservation Corps (CCC) near Middletown, New York, in 1936 and made drawings of life in the CCC. He married Gwendolyn Knight in 1941. Also in 1941, Fortune published a color portfolio of twenty-six panels of his series The Migration of the Negro, with text; and the Downtown Gallery showed the series in its main gallery. Lawrence served in the armed forces during World War II, at one point on the USS Sea Cloud, a weather patrol boat that was the navy's first racially integrated ship. In 1949 he voluntarily entered Hillside Hospital in Queens, New York, for treatment of depression; the New York Times Magazine had an article on this episode: "An Artist Reports on the Troubled Mind," and an exhibition of his hospital paintings opened at the Downtown Gallery in October 1950. In 1951 he received an award from the Committee for the Negro in the Arts. Lawrence taught at Black Mountain College in Asheville, North Carolina (summer session, 1946); at Five Towns Music and Art Foundation in Cedarhurst, Long Island (1955–1962, 1966–1968); at the Pratt Institute in New York (1958–1970); at the New School for Social Research in New York (1966–1969); at the Art Students League in New York (1967–1969); at the Skowhegan School of Painting and Sculpture in Maine (summer 1968); and at the University of Washington, as a full professor (beginning in 1970). He served as president of the New York chapter of the National Institute of Arts and Letters (1957); as president of the artists' committee of the Student Non-Violent Coordinating Committee (SNCC, 1963); as a member of the advisory board for the founding of the Museum of African Art in Washington, D.C.; as a member of the coordinating committee for an exhibition of contemporary African art sponsored by the American Society of African Culture (AMSAC); and as a member of the National Screening Committee for the Fulbright-Hays scholarship program (1965–1967). Lawrence exhibited in Nigeria in 1964. He was an artist in residence at Brandeis University in Waltham, Massachusetts, in February–May 1965; a visiting artist at California State College in Hayward (September 1969–March 1970); and a visiting artist at the University of Washington in Seattle (March–June 1970). Lawrence was appointed commissioner of the National Council of Arts by President Jimmy Carter in 1979; was elected to the American Academy of Arts and Letters in 1983; and was inducted into the American Academy of Arts and Sciences in 1995. He received the Artist Award from the College Art Association, the NAACP Third Annual Great Black Artists Award, and the Images Award for Outstanding Achievement in Art from the University of Pittsburgh (1988); the National Medal of Arts from President George H. W. Bush (1990); the Medal of Honor from the National Arts Club, New York (1993); the Charles White Lifetime Achievement Award in Los Angeles and the Edwin T. Pratt Award from the Urban League of Metropolitan Seattle (1994); an award from the American Civil Liberties Union and the Washington State Medal of Merit (1998); a Lifetime Achievement Award from the Americans for the Arts and Seattle's Golden Umbrella Award and Mayor's Master Artist Award (1999); and numerous honorary doctorates. He established the Jacob and Gwendolyn Lawrence Foundation to promote the creation, exhibition, and study of American art (1999). Lawrence died in Seattle on 9 June 2000, at age eighty-two.
See also Alston, Charles; Artists; Federal Programs; Great Migration; Locke, Alain; Savage, Augusta; Second Harlem Renaissance; Works Progress Administration
Selected Solo Exhibitions
1936: In studio of Addison Bates, a cabinetmaker.
1938: Harlem YMCA, exhibition sponsored by James Weldon Johnson Literary Guild.
1942: "The Migration of the Negro." Museum of Modern Art, New York (even-numbered panels); Phillips Memorial Gallery; Washington, D.C. (odd-numbered panels).
1943: Harlem paintings. Downtown Gallery; New York.
1944: "Paintings by Jacob Lawrence: Migration of the Negro and Works Made in U.S. Coast Guard." Museum of Modern Art, New York.
1953: "Performance: A Series of New Paintings in Tempera by Jacob Lawrence." Downtown Gallery, New York.
1960: Retrospective. Brooklyn Museum, New York. (National tour.)
1962: Exhibition in Lagos and Ibadan, Nigeria. Organized by AMSAC and the Mbari Artists' and Writers' Club Cultural Center.
1963: Paintings pertaining to the civil rights movement. Terry Dintenfass, New York.
1964: Brandeis University. (Traveled to Morgan State College.)
1968: "The Life of Toussaint L'Ouverture." (Fisk University.)
1976: "Graphics by Jacob Lawrence." Francine Seders Gallery, Seattle.
1977: "The Life of John Brown." Detroit Institute of Arts.
1977: "Jacob Lawrence: Paintings and Graphics from 1936 to 1978." Chrysler Museum of Art; Norfolk, Virginia.
1982: "Jacob Lawrence: The Builder." Mississippi Museum of Art, Jackson.
1984: "Jacob Lawrence: Fifty Years of His Work." Jamaica Arts Center; New York.
1985: Colored-pencil drawings. Francine Seders Gallery, Seattle.
1989: "Jacob Lawrence: Paintings and Drawings"; "Jacob Lawrence: Drawings and Prints." (Tour, Caribbean and Africa, sponsored by United States Information Agency.)
1989: "Jacob Lawrence: The Washington Years." Tacoma (Washington) Art Museum.
1989: "Jacob Lawrence: A Continuing Presence." Syracuse (New York) University.
1992: Whatcom Museum of History and Art, Bellingham, Washington.
1992: "Jacob Lawrence: An American Master." East Carolina University, Greenville.
1992: "Jacob Lawrence: The Early Decades, 1935–1950." Katonah (New York) Museum of Art.
1993: "Jacob Lawrence: An Exhibition Presented by the Black Alumni of Pratt Institute." Pratt Institute, Brooklyn, New York.
1993: "Jacob Lawrence: Paintings, Drawings, and Prints." Midtown Payson Galleries, New York.
1994: "Jacob Lawrence: Works on Paper." University of Pennsylvania, Philadelphia.
1994: "Jacob Lawrence: Prints and Drawings." Shasta College, Redding, California.
1997: "Jacob Lawrence: An American Vision—Paintings and Prints 1942–1996." Museum of Northwest Art, La Conner, Washington.
1998: Savannah (Georgia) College of Art and Design.
1998: "Jacob Lawrence as Muralist." Francine Seders Gallery, Seattle, Washington.
2000: "Games." Francine Seders Gallery, Seattle, Washington.
Further Reading
A History of African-American Artists from 1792 to the Present

. New York:

Pantheon

, 1993.
, and .
Harlem Renaissance Art of Black America

. New York:

Studio Museum in Harlem

, 1987.
, et al.
African American Art

. New York, and London:

Oxford University Press

, 1998.
.
Rhapsodies in Black: Art of the Harlem Renaissance

. Berkeley:

University of California Press

, 1997.
.
Jacob Lawrence, American Painter

. Seattle:

University of Washington Press

, 1986.
.

Copyright © 2004 by Taylor & Francis Books, Inc.