Topic Page: Children's literature
---
Definition:
children's literature
from
Britannica Concise Encyclopedia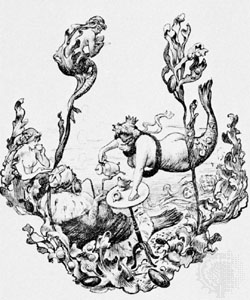 Body of written works produced to entertain or instruct young people. The genre encompasses a wide range of works, including acknowledged classics of world literature, picture books and easy-to-read stories, and fairy tales, lullabies, fables, folk songs, and other, primarily orally transmitted, materials. It emerged as a distinct and independent form only in the second half of the 18th century and blossomed in the 19th century. In the 20th century, with the attainment of near-universal literacy in most developed nations, the diversity in children's books came almost to rival that of adult popular literature.
Event: children's literature
Keywords: children's literature
---
Summary Article: children's literature
From The Columbia Encyclopedia
writing whose primary audience is children.
See also children's book illustration.
The Beginnings of Children's Literature
The earliest of what came to be regarded as children's literature was first meant for adults. Among this ancient body of oral literature were myths and legends created to explain the natural phenomena of night and day and the changing seasons. Ballads, sagas, and epic tales were told by the fireside or in courts to an audience of adults and children eager to hear of the adventures of heroes. Many of these tales were later written down and are enjoyed by children today.
The first literature written specifically for children was intended to instruct them. During the Middle Ages the Venerable Bede, Aelfric, St. Aldhelm, and St. Anselm all wrote school texts in Latin, some of which were later used in schools in England and colonial America. More enjoyable and enduring fare came later when William Caxton, England's first printer, published Aesop's Fables (1484) and Sir Thomas Malory's Morte d'Arthur (1485). The hornbook, invented at the end of the 15th cent., taught children the alphabet, numerals, and the Lord's Prayer. Alphabet books were popular in battledores, a paddle similar to a hornbook, and in chapbook form. The New England Primer (1689), the first children's book published in the American colonies, taught the alphabet along with prayers and religious exhortations.
The first distinctly juvenile literature in England and the United States consisted of gloomy and pious tales—mostly recounting the deaths of sanctimonious children—written for the edification of Puritan boys and girls. Out of this period came one classic for both children and adults, John Bunyan's Pilgrim's Progress (1678). Later works written for adults but adapted for children were Daniel Defoe's Robinson Crusoe (1719) and Jonathan Swift's Gulliver's Travels (1726).
In 1729 the English translation of Charles Perrault's Tales of Mother Goose became popular in England. A collection of Mother Goose rhymes was published in 1765 by John Newbery, an English author and bookseller. Newbery was the first publisher to devote himself seriously to publishing for children. Among his publications were A Pretty Little Pocket Book (1744) and The Renowned History of Little Goody Two Shoes (1765). Pirated editions of Newbery's works were soon published in the United States by Isaiah Thomas and others.
By the end of the 18th cent., juvenile literature, partly under the influence of Locke and Rousseau, had again become didactic. This time the didacticism was of an intellectual and moralistic variety, as evidenced in the sober, uplifting books of such authors as Thomas Day, Mary Sherwood, and Maria Edgeworth in England and in the United States by Samuel Goodrich (pseud. Peter Parley) and Martha Finley (pseud. Martha Farquarson), who wrote the famous Elsie Dinsmore series.
A Flowering of Children's Literature
Contrasting with the didactic movement was 19th-century romanticism, which produced a body of literature that genuinely belonged to children. For the first time children's books contained fantasy and realism, fun and adventure, and many of the books written at that time are still popular today. Folk tales collected in Germany by the brothers Grimm were translated into English in 1823. The fairy stories of Hans Christian Andersen appeared in England in 1846. At the end of the 19th cent. Joseph Jacobs compiled English folk tales. Andrew Lang, a folklorist, began a series of fairy tales. Edward Lear's Book of Nonsense (1846) and Robert Louis Stevenson's Child's Garden of Verses (1885) set the style for much of the poetry written for children today. Lewis Carroll's twin masterpieces Alice's Adventures in Wonderland (1865) and Through the Looking Glass (1872) combine lunacy and fantasy with satire and word games.
Victorian family life is realistically depicted in Louisa May Alcott's Little Women (1868), whereas Mark Twain's Adventures of Tom Sawyer (1876) and Robert Louis Stevenson's Treasure Island (1880) emphasize adventure; all three books present fully developed characters. At the turn of the century several children's magazines were being published, the most important being the St. Nicholas Magazine (1887–1943).
Meanwhile, translations widened the world of the English-speaking child from the 19th cent. on; popular translated works include J. D. Wyss's Swiss Family Robinson (tr. from the German, 1814); Carlo Collodi's Pinocchio (tr. from the Italian, 1892); Felix Salten's Bambi (tr. from the German, 1928); Antoine de Saint-Exupéry's Little Prince (tr. from the French, 1943); Astrid Lindgren's Pippi Longstocking (tr. from the Swedish, 1950); and Herta von Gebhardt's The Girl from Nowhere (tr. from the German, 1959).
The Twentieth Century
The contributions and innovations of the 19th cent. continued into the 20th cent., achieving a distinct place in literature for children's books, and spawning innumerable genres of children's literature. Fantasy written for children includes L. Frank Baum's Wonderful Wizard of Oz (1900), A. A. Milne's Winnie-the-Pooh (1927), P. L. Travers's Mary Poppins (1934), J. R. R. Tolkien's The Hobbit (1937), C. S. Lewis's "Narnia" series, E. B. White's Charlotte's Web (1952) and The Trumpet of the Swan (1970), Madeleine L'Engle's science-fiction A Wrinkle in Time (1962), Lloyd Alexander's Book of Three (1964), Brian Jacques's Redwall series (1987–), and J. K. Rowling's Harry Potter books (7 vol., 1997–2007). Among the most popular and influential books in the last half of the 20th cent. are the many novels of Beverly Cleary, which portray the lives of ordinary children. Popular collections of humorous verse include Laura Richards's Tirra Lirra (1932), Hilaire Belloc's Cautionary Verses (1941), John Ciardi's Reason for the Pelican (1959), and Arnold Spilka's Rumbudgin of Nonsense (1970).
Adventure and mystery are found in such works as Armstrong Sperry's Call It Courage (1941) and E. L. Konigsburg's From the Mixed-Up Files of Mrs. Basil E. Frankweiler (1968). The novel for children now includes many of the literary, psychological, and social elements found in its adult counterpart. Books with sophisticated emphasis on plot, mood, characterization, or setting are Kenneth Grahame's Wind in the Willows (1908), Esther Forbes's Johnny Tremain (1944), Joseph Krumgold's And Now Miguel (1953), and Scott O'Dell's Island of the Blue Dolphins (1961). Mature treatment of the emotions of growing up characterizes Irene Hunt's Up a Road Slowly (1966), whereas William Armstrong's Sounder (1970) realistically portrays the experiences of a black sharecropper and his family.
From the 1960s through the 90s "socially relevant" children's books have appeared, treating subjects like death, drugs, sex, urban crisis, discrimination, the environment, and women's liberation. S. E. Hinton's The Outsiders (1980) and Robert Cormier's I Am the Cheese (1977) are two novels that offer vivid portrayals of the sometimes unpleasant aspects of maturing. These books also reveal the trend toward a growing literature for teenagers. Other novelists that write convincingly of growing up in contemporary society include Ellen Raskin, Judy Blume, and Cynthia Voigt. Some critics consider these books as didactic as the children's books of the 17th and early 19th cent.
Another trend has been books written by children, especially poetry, such as Richard Lewis's Miracles (1966), a collection of poems written by children of many countries. During the 20th cent. in particular, new collections of tales that reach back to the oral roots of literature have come from Europe, Asia, Africa, and the Caribbean. International folktales have also received increasing attention. Among the many authors pursuing these themes, Verna Aardema compiles African folktales and Yoko Kawashima Watkins studies Asian oral traditions. During the 1980s and 90s in particular, multicultural concerns became an important aspect of the new realistic tradition in children's literature, as in Allen Say's tales of the Japanese-American immigrant experience.
The Newbery Medal, an award for the most distinguished work of literature for children, was established by Frederic Melcher in 1922; in 1938 he established a second award, the Caldecott Medal, for the best picture book of the year. An international children's book award, the Hans Christian Andersen Award, was given in 1970 for the first time to an American, Maurice Sendak, in recognition of his contribution to children's literature. His Where the Wild Things Are (1963) won him international acclaim and was followed by two sequels, In the Night Kitchen (1970) and Outside Over There (1981).
Magazines that review and discuss children's literature include The Horn Book, The Bulletin of the Center for Children's Books, and the School Library Journal in the United States and The Junior Bookshelf in Great Britain.
Bibliography
See

Three Centuries of Children's Books in Europe

(1967);.
,

Only Connect

(1969);.
et al.,

A Critical History of Children's Literature

(rev. ed. 1969);.
,

From Childhood to Childhood

(1970);.
,

From Dr. Mather to Dr. Seuss

(1980);.
,

Thursday's Child: Trends and Patterns in Contemporary Children's Literature (1981) and World Within: Children's Fantasy from the Middle Ages to Today

(1988);.
,

Through the Eyes of a Child

(1983);.
,

F. Butler

;

R. W. Robert

, ed.,

Reflections on Literature for Children

(1984);.

The Literary Heritage of Childhood

(1987);.
; ,

Before Oz: Juvenile Fantasy Stories from 19th-Century America

(1989);.
,

Children and Books

(

8

th ed. 1991);.
et al.,

Inventing Wonderland: The Lives and Fantasies of Lewis Carroll, Edward Lear, J. M. Barrie, Kenneth Grahame and A. A. Milne

(1995);.
,

The Natural History of Make-Believe: Tracing the Literature of Imagination for Children

(1996);.
,

The Norton Anthology of Children's Literature

(2005);.
et al.,

Minders of Make-Believe: Idealists, Entrepeneurs, and the Shaping of American Children's Literature

(2008);.
,

Children's Literature: A Reader's History

(2008).
,
Related Articles
---
Handbook of Research on Children's and Young Adult Literature
Old Assumptions and New Directions The working title for this chapter, "Nonfiction: Going After the Facts," made us uncomfortable from the...
The Routledge International Handbook of English, Language and Literacy Teaching
For the purposes of this chapter the authors consider literature for children as texts written to entertain the young. The most rewarding...
See more from Credo